Learn to dive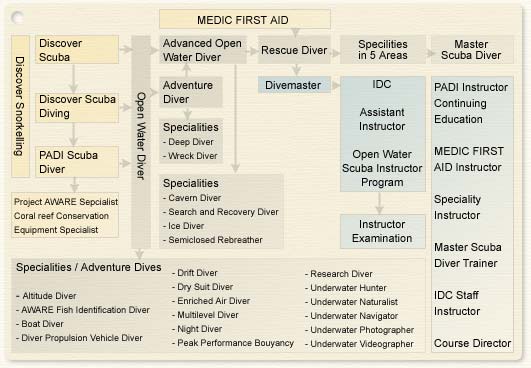 Discover Scuba Diving
This allows you to dive in open water under direct supervision. It is designed to encourage exploration and allow people to satisfy their curiosity about scuba diving. The programme consists of a short video followed by a classroom session where we teach you the skills you will need for your first dive. This is followed by a simple quiz. We will then familiarise you with your equipment. You are now ready to swim with the fish at our shallow water reef. Minimum age 10yrs.

PADI Scuba Diver
This is our first level of certification. The course comprises three academic sessions, three confined water sessions and two open water dives. You are then qualified to dive under the direct supervision of a PADI professional.

Open Water Diver
To advance from PADI scuba diver you must complete two academic sessions, two confined water sessions and two more open water dives. Once completed you are qualified to dive anywhere in the world with a buddy.

Adventure Diver
Advanced Open water Diver: If you are an enthusiast then this is your next step. This course requires you to do five adventure dives. It is required for you to complete a navigation dive. This will teach you how to navigate underwater to a pre-defined location. Our most commonly used site for this dive is the gully and cave outside the harbour (See dive site map). The second mandatory dive is a deep dive. This can be done at the entrance to the swim through at the south side of Inisgalloon. You can then choose three of the following
Wreck Dive
Night Dive
Dry Suit Dive
Multilevel Dive
Drift Dive
Peak performance buoyancy dive
Search and recovery dive
Underwater naturalist
Underwater photography
Underwater videography

Rescue Diver
This course will introduce you to common problems and scenarios that may arise throughout your diving career. It enables you to fine tune your self-rescue and manage emergencies involving other divers. We take a flexible, conceptual approach to performing rescues. A rescuers relative size and strength, for example, as well as environmental factors dictate what rescue technique may be most effective.
Course Goals
Expand diver knowledge in preparation for PADI leadership training
Teach effective diver rescue and first aid skills
Prepare divers to manage realistic rescue situations
Increase awareness of dive safety
Encourage divers to anticipate and prevent problems.

Master Scuba Diver / Specialities
Is the highest non-professional rating a diver can achieve. We recommend this course for people who do not want to maximise their knowledge, gain respect from fellow divers and without the responsibility of supervising other divers. To achieve this qualification you must be a qualified rescue diver with specialities in five of the following areas.
Cavern Diver
Deep Diver
Equipment Specialist
Ice Diver
Night Diver
Research Diver
Search and Recovery Diver
Underwater Hunter Diver
Underwater Navigator Diver
Underwater Photographer Diver
Wreck Diver
Distinctive Speciality
Master Scuba Diver
Altitude Diver
Boat Diver
Drift Diver
Dry Suit Diver
Multilevel Diver
Underwater Naturalist
Peak Performance Buoyancy
Underwater Videography
Enriched Air Diver
Diver Propulsion Vehicle
Project AWARE Speciality
AWARE - Fish Identification
Dolphin/Atlantis Semi closed Rebreather
Ray Semiclosed Rebreather

Divemaster
The first professional qualification available. Up until this you will have been affiliated to PADI. On completion of the Divemaster course you will be a full member of the Professional Association of Diving Instructors. The PADI Divemaster course is divided into three modules
Knowledge Development module
Water Skills and Stamina module
Practical application module
We have found that the most effective method of teaching the third module is internship. This is where the student takes part in actual course training and gains hands on experience in dealing with real life problems as they may arise. This helps the Divemaster gain respect from their students and gives them a more professional appearance. The advantage of spending time with Achill Dive Centre is along with the Divemaster qualification you gain in depth knowledge of the various dive sites we visit, advanced boating skills and what we call "respect for the sea".
Assistant Instructor
Instructor Course
Instructor Examination